EXERCISE EXERCISE EXERCISE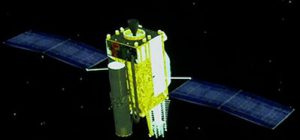 SUPPOSED SIGINT SATELLITE SUSPICIOUSLY SCOOTS: TJS-1 ABRUPTLY MANEUVERS
By Oswald Thatendswald – 31 July, 2022
 COLORADO SPRINGS, Colo. – Earlier today, China's mysterious Tongxin Jishu Shiyan 1 (TJS-1) experimental communications satellite ascended 100km above Geosynchronous orbit and entered a Westward drift. Also known as Qianshao-3 or Chang Cheng-1, this satellite is suspected to belong to China's SIGINT presence in GEO.
Designed by the Chinese Academy of Space Technology (CAST), TJS-1 was launched in 2015 to demonstrate multi-band, high-speed communication techniques. Despite this acknowledgement by Chinese officials, the portions of the electromagnetic spectrum it could target for collection are unknown.
There are eight members of the Tonxin Jishu Shiyan family in GEO, TJS-1 included. The purpose of each satellite appears equally obscure, but the behaviors exhibited by these satellites indicate a mixture of applications. Some appear purpose-built for missile warning, while others seem to operate like SIGINT birds. Some even have experimental docking capabilities – specifically, TJS-6 and TJS-7, according to the Shanghai Academy of Spaceflight Technology (SAST).
While the destination of this maneuver is difficult to anticipate, we know that TJS-1 held an equatorial position at 155° East before its departure. On a map, that would put it just Northeast of Papua New Guinea, drifting toward Hawaii.
Space News Today will monitor the situation and provide updates as the situation develops.
 EXERCISE EXERCISE EXERCISE